"If you're eager to have football come back this fall,"
tweets
Adam Jacobi about an Indiana University freshman offensive lineman, "please read this."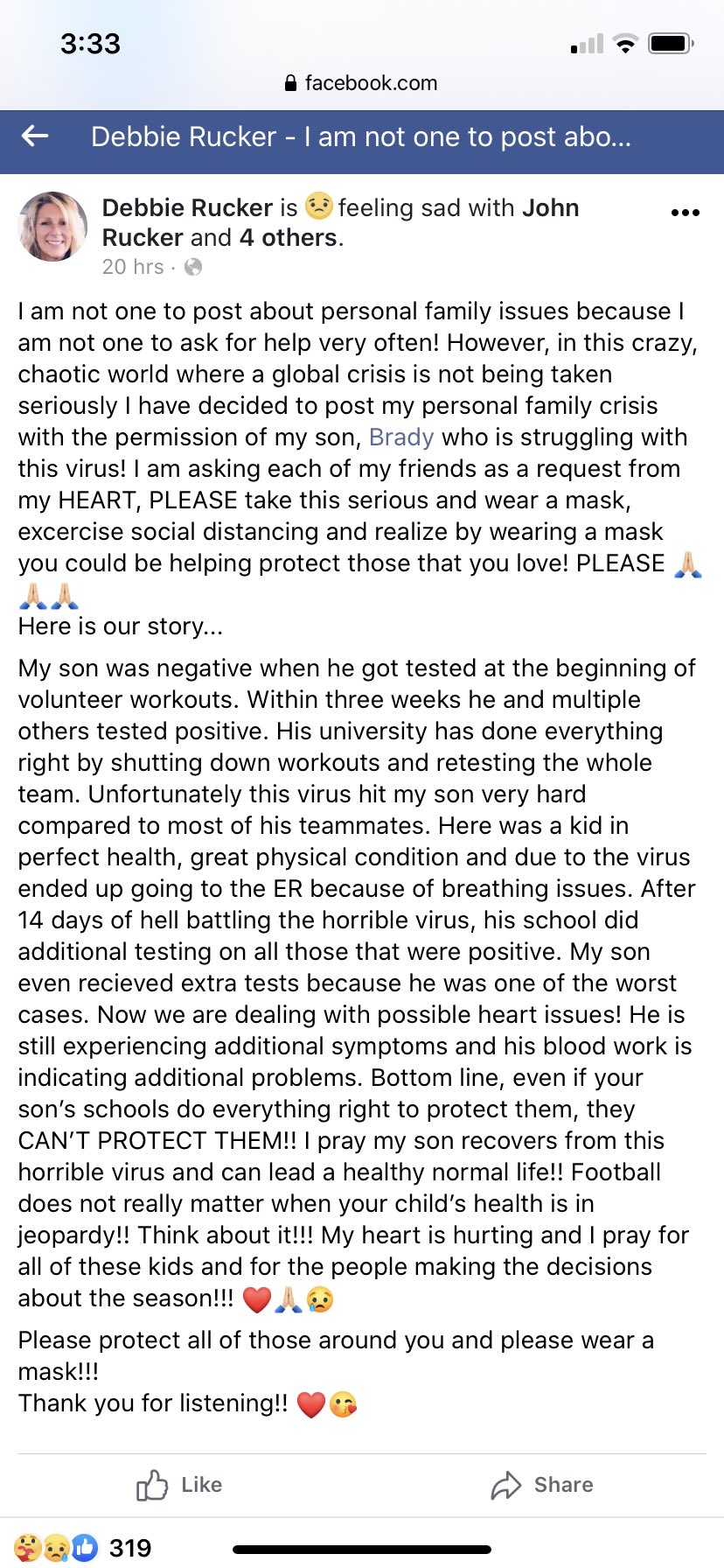 Some
colleges
obviously have gotten the message, for
Late this spring, colleges and universities issued a wave of announcements: they would be opening -- er, intending to open -- their campuses this fall.
Plans were laid for early departures, scheduled showers, small group cohorts and a half-full campus. Plexiglas was bought and tents erected.
Now, many universities are reversing their plans, announcing both online courses and closed campuses....
College presidents in their announcements have pointed to rising cases, quarantine requirements for their states and restrictions by governors as reasons for their turns to online learning. In some jurisdictions K-12 schools are likely to be remote, creating childcare concerns for staff members with children. Behind the scenes, faculty have been waving red flags about their own participation on campus, with many professors insisting that they should not be forced to teach in person.
Outbreaks have occurred on numerous campuses among staff members or athletes. The New York Times, in a survey of four-year publics and research institutions, has connected more than 6,600 COVID-19 cases, likely an undercount, to roughly 270 American universities.
Bill Maher on Real Time has a recurring segment he calls "I don't know it for a fact- I just know it's true." I don't know it for a fact but I know it's true. Universities have been tempted to open their campuses (and some still plan to do so) because of professional sports.
The National Basketball Association and the National Hockey League have resumed their seasons, thus far relatively smoothly. Major League Baseball has begun a new season, not smoothly, and the Big Kahuna, the National Football League is planning its new season.
"Sports are like the reward of a functioning society," recognizes Washington Nationals pitcher Sean Doolittle. This society is not functioning but, well, money talks and the show must go on, no matter the impact upon life and death.
Colleges and universities, especially their athletic programs (as the Ruckers sadly have learned), feel the pressure. And most either are opening their physical sites or planned to do so and are now pulling back. Kudos for those who recognized their mistake and those with the foresight not to have made it at all. Like professional sports, the others worship the god of profit, and people will suffer for it.